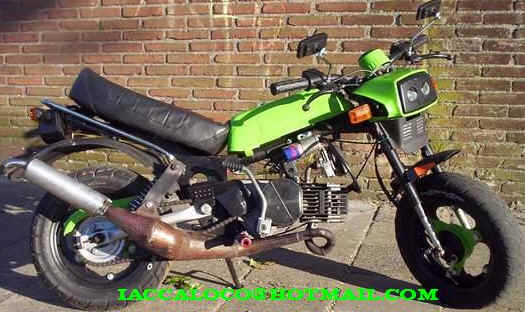 Hi Rob, here are the details of the supercharged Jawa.
The bike started of as a 1950, 250 Perak Jawa.
Reg Wingard here in a fishing town of Port Lincoln bought it brand new from the Jawa agent, Sven Kallin here in Adelaide, South Australia.
Reg raced it in 1951 in amild tune, he fitted a big TTcarby to it. road racing it.
In 1953, Reg had modified the oiling system, fitted a smaller supercharger to it. Fitted a tacho and made his on designed head he cast in his back yard with help from his wife. It was Raced on the 28-12-1953 at Pt. Wakefield , South Australia. At this meeting, the bike was timed at 105 M.P.H.
Reg has drilled the main shaft, fitted an adaptor which is drilled and on the end of it is fitted a sprocket which drives the blower. On the end of the blower shaft, Reg fitted a Pilgrim oil pump which delivers one lot of oil to the big end, through a quill, the other line delivers oil to Y junction which delivers oil to each main bearing. The piston has had the ports welded up.
In the bottom of the barrell on each side Reg welded ona piece of pipe, say 3/4 ''.
Reg cast all the allumuim fittings on the engine. The bike used to rev to 8000RPM.
Reg used to run it on alochol. It is fitted with a seperate oil tank, castrol R was used. The carby is a SU.
The bike last ran at a motor cross meeting here in South Australia in 1960, running naturally asperated.
This bike has NEVER been left out in the rain.
I have tracked down the 4 riders who rode it. They all live in different parts of Australia.
It took me 9 months to restore. When i start this bike it makes a Hell of a noise.
This guy Reg sold 1, 350 Jawa, plus 12, 250 Jawas, for this , Sven Kallin gave him a new Vincent Rapide.
Regs wife is still alive, she has seen the fully restored bike. She is very in pressed with it. She is 83 years old.
All the best , Paul
Hi Rob,
Yes i have look at the Jawa website, looks good.
I have a friend here in Australia who owns a racing Jawa.The frame is a swinging arm BSA Bantam frame using a 250 Perak motor bored out to 344cc. This motor is RED HOT, runs on alcohol. This bike beats all the 350 classic bikes eg, 350 manx norton, 350 Gold Star BSA. This bike does around 115 mph. It has a Yamaha clutch on it now, the normal Jawa clutch could not take the strain. A primary chain only lasts one meeting. They stretch so much. I had alook at the OGAR page. I am trying to build up an OGAR. We think here in Australia, the Jawa agents painted normal grey Ogars in Jawa colours to sell them. Do you know where i can buy a Ogar speedo face.
Have you friends with Ogars? All the best for the new year. Paul